Meet poser punk Johnathan Adam Schutz, born June 30, 1979, a Trump supporter, white supremacist, and convicted pedophile living in Reno, NV. We feel that Johnathan's past conviction and choice to uphold the tenets of white supremacy is a threat to our community at large. You, the residents of Truckee Meadows, should know more about Johnathan in order to unite against the growing threat of racism and fascism.
An antifascist activist informed us about Johnathan's social media presence. We found that Johnathan's Instagram profile avatar is the Valknot or "knot of the slain", an old Norse symbol that has been appropriated by white supremacists as a racist symbol.

We also learned that Johnathan, an insufferable snowflake, does not like wearing a mask in public.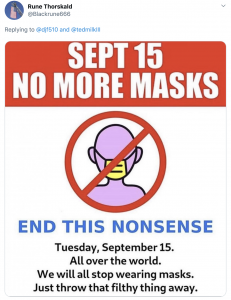 Pedophilia Conviction
Johnathan was convicted of lewdness with a child under 14 in October of 2005. As such, he must register as a sex offender for life and is required to register any changes to his place of residence and employment. We'll always know his whereabouts while he is a resident of Nevada.
On Twitter, Johnathan projects himself by conflating pedophilia with the BLM movement and supporters of Joe Biden.
It is worth mentioning that Johnathan follows @exposecommiesnv on Twitter, an account run by Gabriel Mercaco (whom we recently exposed), who is known for pedophile apologist posts and conflating pedophilia with political movements he disproves and for posting images of percieved adversaires, their children, and parents, without regard; Johnathan follows Gabe's harmful, unbased tweets.

Here is an example of Johnathan replying, with interest, to one of Gabe's tweets. We wonder why Johnathan is inquiring and what he plans to do. Please keep in mind, that while Johnathan spent time in prison, he doesn't appear to be rehabilitated as he still has violent tendencies.
Johnathan serves as evidence that the Boogaloo, QAnon, and Nazi obsession with "saving the children" is just a front, perhaps for groomers and the like.
Connecting the dots
We were able to discover Johnathan's identity because he cross posted the same image of his cat and his toy orca on both his Insatram and Twitter profiles. He uses his real name on his Instagram page. We apologize but we will not link to the offending posts in order to protect the innocent feline.
Employment
According to the Nevada Sex Offender Public Website, his employer address is 4590 S. Viriginia Street. which is the Reno-Sparks Convention Center. According to this tweet dated August 1, 2020, he appears to be unemployed.
Conclusion
We post documentation like this to keep our communities safe and aware of potential threats. The police won't do anything to protect us from fascists and white supremacists so it is on us to help defend our communities from the growing threats of fascism and white supremacy.
Resources
@jschutz909 on Instagram (Instagram ID: 5312068036) (Archive)
@BlackRune666 on Twitter (Archive)
Nevada Sex Offender Public Website (search by last name, first name)
Current Residence (Archive)
Elko Daily News Article (Archive)